Making Healthy Rhythms in Your Life a Reality : Holly & Glenn Packiam
As pastors and ministry leaders, we give consideration to the value of incorporating healthy rhythms into our lives and ministries, but we oftentimes struggle with making those rhythms a reality. In this week's conversation on FrontStage BackStage, host Jason Daye is joined by Holly and Glenn Packiam, who serve at Rock Harbor in Costa Mesa, California. Glenn serves as the lead pastor and Holly earned her master's degree in counseling from the University of Colorado, and has served as pastor of parenting ministries. They are the authors of The Intentional Year, and the follow-up companion to that book, The Intentional Year Journal. Together, Holly, Glenn and Jason explore the importance of incorporating these rhythms into our lives. Holly and Glenn share from a personal experience simple ways to not only talk or think about these rhythms but to actually implement them in our daily lives.
Looking to dig more deeply into this topic and conversation? Every week we go the extra mile and create a free toolkit so you and your ministry team can dive deeper into the topic that is discussed. Find your Weekly Toolkit below… Love well, Live well, Lead well!
---
Video Links
Share the video with your ministry leaders >> YouTube
---
Audio Links
Share the audio podcast with your ministry leaders…
---
Additional Resource Links
www.glennpackiam.com – Visit Glenn's website, where you can find valuable resources such as his books, podcasts, videos, and much more.
The Intentional Year: Simple Rhythms for Finding Freedom, Peace, and Purpose – The Intentional Year is an invitation to stop right now, right where you are, and choose to live on purpose. This isn't just about aspirations or self-improvement―a flourishing life is tangible and possible. With stories, practices, and a road map into intentionality, Holly and Glenn Packiam will guide you into simple ways to grow personally. Experience freedom to invest time and energy into the people you value most and into the purpose you were made for.
The Intentional Year Journal: A Guided Journey into Freedom, Peace, and Purpose – This journal is a practical guide that helps busy people like you plan with purpose and live into becoming the person God has called you to become.
Connect with Glenn – Twitter | Instagram
Connect with Holly – Instagram
Connect with PastorServe – LinkedIn | Twitter | Instagram | Facebook
Feeling overwhelmed, burned out, or just want to talk? Complimentary Coaching Session for Pastors http://PastorServe.org/freesession
---
Ministry Leaders Growth Guide
Key Insights and Concepts
Ministry can be chaotic, so it's important for pastors and ministry leaders to have rhythms in place so they can avoid getting burned out.
It's helpful for both couples and individuals to take time away and reflect on their past season and prayerfully create a plan for their upcoming season.
Pastors and ministry leaders can follow the lead of Jesus in not being reactive, but being proactive and intentional about their time, while also allowing for interruption.
Life will never be able to be fully planned, especially in ministry, but intentional scheduling and rhythms allow for the most important things to remain the priority.
Saying 'yes' to every opportunity will lead to becoming overextended and exhausted, which can ultimately lead to much bigger problems in ministry and life. Saying 'no' is not selfish, it is healthy.
God, and one's relationship with Him, should be the centerpiece of everything, and ministry should flow out of this engaged relationship.
Scripture frequently describes a flourishing life as a fruitful tree and can describe how the lives of Christ-followers are meant to bear fruit for the sake of others. The fruit is not for the tree itself, but for the benefit of others. So making time to be intentional about self-care is not selfish, but necessary, as it allows one to flourish for the benefit of others.
Children learn from their parents, so it's important to lead by example and demonstrate setting healthy rhythms in life. Further, talking with children about how they can practice rhythm and intentionality in their own lives is helpful.
In a culture that celebrates productivity, it's important to remain focused on fruitfulness which is more about who a person is becoming than what they are doing and producing.
Fruitfulness is a gift of the Holy Spirit and something that develops as one abides in Jesus.
Those who are not naturally organized can still benefit from becoming more intentional with their time. Tools like schedules and calendars can assist in incorporating intentional living into one's life.
Reflecting on the past is an important part of an intentional year and can be helpful in better understanding the past season and planning for what is coming next.
Questions for Reflection
How am I doing with living intentionally? How am I navigating and finding balance amidst the inherent chaos of ministry? What rhythms or practices have helped me avoid burnout? Or have I noticed that lack of rhythms or practices has caused burnout or other issues? If so, in what ways?
When was the last time I took a deliberate break to reflect on the past season of my life or ministry, and how did that reflection influence my plans and goals for the upcoming season?
In what ways can I embody the qualities of being proactive and intentional with my time, while also remaining open and adaptable to unexpected interruptions or opportunities?
How can intentional scheduling and rhythms serve as a tool to ensure that the important aspects of my life and ministry consistently receive the attention and priority they deserve?
Have I found myself overcommitting or saying "yes" to too many things, and if so, how has it impacted my overall well-being, effectiveness, and the quality of my relationships? Do I need to make changes in this area of my life? If so, what changes will I make? When?
How can I deepen my understanding of and be more deliberate about having God as the centerpiece of everything I do, rather than just engaging in activities labeled as "good" or "God-related" without genuine connection and purpose?
What does the concept of living a fruitful life mean to me, and how can I intentionally incorporate self-care practices that contribute to personal growth so I can better have the ability to positively impact others?
How am I setting an example for my children or those who look up to me, demonstrating practical rhythms and engaging in conversations that illustrate the value of intentional living?
In a culture that often equates productivity with success, how can I redefine my understanding of fruitfulness to prioritize personal growth, character development, and meaningful relationships over mere accomplishments?
How can I cultivate a mindset that acknowledges fruitfulness as a collaborative effort with the Holy Spirit, rather than a result solely dependent on my own striving or achievements?
What strategies or tools can I explore to better organize my life and maintain a sense of clarity, even if organization does not come naturally to me?
How have past reflections influenced my ability to plan for a more fruitful and purposeful future? Or how has the lack of past reflections interfered with being able to have a more fruitful and purposeful future?
How is our local church helping or hindering myself and others from living intentionally? Are there areas that need to be addressed so our church can better assist in this? If so, what can be done?
---
Full-Text Transcript
As pastors and ministry leaders, we give consideration to the value of incorporating healthy rhythms into our lives and ministries, but we oftentimes struggle with making those rhythms a reality.
Jason Daye 
In this episode, I'm joined by Holly and Glenn Packiam, who serve at Rock Harbor in Costa Mesa, California. Glenn serves as the lead pastor, and Holly earned her master's degree in counseling from the University of Colorado and has served as pastor of parenting ministries. They are the authors of The Intentional Year, and the follow-up companion to that book, The Intentional Year Journal. Together, Holly, Glenn and I explore the importance of incorporating these rhythms into our lives. Holly and Glenn share from a personal experience simple ways to not only talk or think about these rhythms but to actually implement them in our daily lives. Are you ready? Let's go.
Jason Daye
Hello, friends, and welcome to another episode of FrontStage BackStage, I'm your host, Jason Daye. And I'm so excited for today's conversation, you guys are going to really, really enjoy the conversation we have for you today. Every single week, I have the distinct privilege of sitting down with trusted ministry leaders. And we dive into a topic designed to help you and ministry leaders just like you embrace healthy and sustainable rhythms for both life and ministry. And we are proud to be a part of the Pastor Serve Network. And not only do we have a conversation each week, and provide the show for you. But our team also creates an entire toolkit that complements the conversation we're having. And in there, you will find a Ministry Leader's Growth Guide, along with a lot of other resources. So we encourage you to check that out at PastorServe.org/network and use that for your own development. Use it to help develop the staff in your local church and your local ministry. So be sure to avail yourself of that resource. And then at Pastor Serve we absolutely love pastors and our team invests time every single week, day in and day out, walking alongside of pastors and ministry leaders just like you and we have a complimentary coaching session available. And if you want to learn more about that, please check out PastorServe.org/freesession. Now if you're joining us on YouTube, please give us a thumbs up and make sure you hit that bell for notifications so you do not miss out on these great conversations. And take just a moment and drop your name and the name of your church in the comments below. We absolutely love getting to know our audience better. And our team will be praying for you and for your ministry. Whether you're joining us on YouTube, or your favorite podcast platform, please be sure to follow or subscribe so you do not miss out on these great conversations. And at this time, I would like to welcome Holly and Glenn Packiam to the show. Good to see you. I'm so excited. Now, Glenn, you've hung out with me before on the show. Last year we did an episode that was absolutely fantastic. But super excited, no offense to you, Glenn. But super excited to have Holly with us today. So, Holly, welcome. We are going to dive into a conversation that I think personally, and I know that the two of you believe very much in this, so much so that you've written not only one book but two books, two different resources around it. But a conversation that can really help us as pastors and ministry leaders with those important rhythms and healthy rhythms in our lives. Which we all know that ministry can be chaotic, right? It can be hectic. Oftentimes, we feel like we're always on, you never know when something might arise. And that's part of the call of being a ministry leader is we have a blessing. It's a blessing in a way for us for God to entrust to us a group of people that we have a sense of responsibility and care for. And we have the opportunity to shepherd and so that's part of it. But there can be challenges. And if we don't set these rhythms and if we're not intentional in how we approach life and ministry, we can find ourselves getting off track, getting drained, burning out, all of those types of things. And so Glenn and Holly, you have written an incredible book, and many people may have already seen it because it's already been released. But we're teasing something because you have something extra that you're releasing along with this book, which I'm super excited to share but The Intentional Year. And I would love to start out if we could. And Holly maybe you can start us off with just this idea behind how you guys came to really incorporate this. I mean, share with us what the idea of The Intentional Year is. But then how did you guys decide, hey, wait a second, we need to pull this into our lives,
Holly Packiam
Right. Well, it was probably about 12 years ago, our kids are really young. And we were trying to just find ways to, in the midst of the craziness and the chaos, find some rootedness within our faith. And we happen to know a couple of different couples, who they just encouraged us and said, you know, once a year, maybe around the end of the year, beginning of the new year, we go somewhere together, maybe stay a night away from kids, and just take time to really pray and reflect. And so they planted that seed in our hearts. And so we were like, we need to do something like this. And so we started with that basic idea and sort of would talk and try to think of ideas of like, what could we do with this time? Could we pray together? We could reflect on the past year, and so slowly, kind of over the years, it's just this organic thing became really more of a planned out retreat, I guess you could say. And then we started having people say, you guys should really write this down. Like, we want to know, how are you really structuring your time? What are you really doing? And so that's kind of the seed for the idea of the book.
Glenn Packiam
Yeah, it's fascinating, because there's so much that has been written on spiritual practices, and so many wonderful, wonderful books out there. But I think what we discovered is sometimes for people that just feels overwhelming, like, it feels like walking up to a world-class buffet and thinking, Where do I even start? And how do I know what's good? And I think what we're aiming to do with this book is to say, look, there's really three or four key practices, and we'll arrange them in a sequence for you starting with reflecting on the past, then listening for a word for the new season, then taking an inventory over five spheres of your life. And then, you know, making it stick through a calendar, putting it in your calendar. So by walking people through that, that's eventually what our structure began to look like, over the course, it became a two-night retreat, then it became we do this retreat twice a year, because life moves so quickly, and life changes so quickly, you know, so anyway, so the book is our attempt to distill all of that as a map, a roadmap, maybe a curated meal, instead of a buffet table kind of meal.
Jason Daye
Yeah, that's excellent. I love that. And as kind of the thought behind The Intentional Year, and what it can be, what it can set up. I mean, conceptually, the idea is, as you've shared, Holly and Glenn is this idea where you step back, you take some time away, and it's always nice to maybe take a couple of days for ourselves away from the kids, right? And just kind of focus in, get some quiet and focus in. But then, you know, really just creating this practical plan and way to assess life, that we can have this rhythm and almost checking in with ourselves, right, and checking in with one another to see that we're moving along kind of this right path. And as you said, life changes, there are dynamics that happen, right? And so to be able to kind of have that continuous heart of recalibrating ourselves to the heartbeat of Christ and what we need. I love the practicality of it. I would love to dive a little bit into the whys, the benefits, right? The benefits of pausing, and saying, Okay, let's be intentional about the rhythms in our lives. So Glenn, if you could help us out with some of the benefits that come to mind when it comes to practices?
Glenn Packiam
I am notorious Jason, as Holly can attest to, I'm notorious for being overly optimistic about the calendar, about the schedule, about my schedule, you know? And so when someone says, Hey, can I get a meeting? Oh, yes. And someone says, Hey, could you speak at this? Yes, I can fit that in. I can fit this in. And actually, early in our marriage, even before we started doing this retreat. This is back in my worship-leading band days and we'd travel. So many times, it'd be like, can you play at this conference? Can you play at this festival? And I kept saying, yes, yes, yes. And one day Holly was like, So when are we taking vacations? Like is our vacation just like staying an extra day at this festival that you're playing at or whatever? I began to realize, yeah, I think I'm doing it backward. That I'm reacting I think for both of us. We've just discovered that in ministry, you kind of go into ministry because you have a heart to serve. And you have a heart to help. I mean, this is the mindset that we embrace because of who Jesus is. But I think we kind of have maybe an inaccurate picture that Jesus was just sort of reactive and responsive when actually, we really have come to believe that Jesus was super proactive and intentional about his own time with the Father. He called the disciples to himself. And yes, he did allow himself to be interrupted. And yes, he let the crowds follow him and he took care of them. So there is a both/and. But I think what we've learned is you can never stop the unplanned stuff from happening, you can never prevent the need to be able to respond to people. But what you can do is also fill in first, schedule first, what matters most built into your life rhythms first, the things that kind of matter.
Jason Daye
Yeah, I love that. And I do want to speak to the truth, what Glenn is saying, he practices. Because I can attest to this, because usually, I mean, Glenn is awesome, if you guys know, and willing to share, willing to be a part of, you know, he has that heart, okay. I forget what it was. But there was some event that I reached out to you about at one point, and I remember your response, and I so appreciated it. You said, Jason, I'd love to be involved. But I've already filled my calendar around that time. And I have to say no to certain things. And I remember whenever I received that, I did not feel at all like, Oh, thanks a lot, Glenn. Come on, buddy. I mean, I thought, hey, there's Glenn, practicing what he preaches. Yeah, I was excited for you. So I can attest that this is true. And that's important for all of us because I think all of us in ministry, we have that struggle, Glenn, as you said, right, Holly? We have the struggle that we want to serve, we want to engage, we want to pour ourselves out as a sacrificial offering. And it's not that God is sitting there saying, Hey, listen, the whole idea is for you to just spread yourself so thin because that's where we run into burnout. That's where we run into all kinds of craziness that we see, unfortunately, in the news with pastors and ministry leaders. So, Holly, for you, what are some of the benefits that you've experienced that you've seen in both ministry and in life, when it comes to being intentional, going through the retreat, planning these things out, and setting that rhythm?
Holly Packiam
Yeah, I mean, this might sound very simple and obvious, but I think really just creating this space to be with God. And I think for so many of us that we can just keep doing all the good work, but if we don't first take that time, to rest, to just listen, to just be with God really is like the center of all of this. And really, our hope for the book is that that's what we're hoping. That these practices aren't just, Do these things because they're good things to do or for God. But that really, God is at the center of our lives, and that these practices can be lived out. And so I think, for me, really just being more intentional with that piece, then have that as like a centerpiece of all of it. Really then I am able to give more out of that relationship with the Lord and really making that a priority to take the time and space for that.
Jason Daye
Yeah, love that. Holly. It's so true. Because we get caught up in ministry and we're doing a lot of good things. We're doing a lot of God stuff, right? But it doesn't mean we're centering ourselves in Christ. And I think we fool ourselves oftentimes. I mean, all of us who are in ministry can raise our hand and say, I've been in a season where I thought that I was close to God, but I was really just doing a bunch of God stuff. Yeah. So I appreciate that, Holly, that idea of centering ourselves, I love that word that use. Centering ourselves, because it's out of that, where ministry really flourishes, where God can really use us in the way that He desires. So I love it. Now, for those of you who are listening along and not watching. You may not know this if you don't know Glenn and Holly, but they both look like they literally just graduated college. You guys have aged incredibly well. But I know the truth, right? I know the truth. You actually have a daughter in college. So some of you guys may not know that. So they have had lots of experience, wisdom, they've lived a lot of life. But when we're thinking about our families, right, it's one of the things that strikes me about the idea behind The Intentional Year, is that it's not just for ourselves. You know, it's not even just for our marriage, for those who are married. It's not just for ministry, there are benefits, as we've talked about for our lives in ministry, but I'd really like to hear both of your hearts about the family piece, as mom and dad and the kids. How has that impacted your family?
Glenn Packiam
Well, let me just say just a word even just preaching to the choir here with pastors and church leaders. But the metaphor that the Bible uses for a flourishing life oftentimes is a fruitful tree, right? That's the picture of a flourishing life is a fruitful tree. But the fruit doesn't exist for the tree's sake. Like that specific tree doesn't benefit from the fruit. People benefit from the fruit. Maybe the fruit contains seed that plants another tree, but that same tree doesn't. So in other words, fruit is always for someone else's good. Fruit is always for someone else's sake. And I, we struggled at first like, okay, are we putting too many boundaries up in our calendar? And I know, listen, there is a way to be too boundaried about this. And as generations have gone on, you know, maybe boomers and Xers are not boundaried enough. And then maybe millennials and z's, are too much, but I don't know. I think people have to figure out where you're coming from. But I think the important thing for us is to realize this isn't self-care as in, it's only for my own sake and ends with the self. No, this is for the sake of others. And so even for Holly and me to recognize, like, wait a minute. You've been really good and challenging me to be like, you don't want to have other people say Glenn was so interested in my life, but then you come home and you're like too tanked to be present to your own children. So I don't want that.
Holly Packiam
Yeah, I think we know from just learning more and more about parenting that our kids are going to do what we model. And so I think we've tried to just, you know, model this life of being intentional, and we're gonna fail at moments we're gonna do well. But a lot of these ideas in the book, we're trying to talk with them, we have teenagers, we have three teenagers in the house. So we're talking with them about them being intentional to pursue God on their own. In our time with them, we're trying to have conversations that really matter, and fleshing out things. Our hope is that in these years they'll start for their faith-life to become their own, and not just us telling them this is what's good and right, you should believe this. But we're working that out in conversation at the dinner table, and things like that. And we really try to have conversations like with the whole family about how much time does it feel okay to be out? How many nights a week? How much time do we want, and how many dinners we can have together as a family like all those kinds of things?
Glenn Packiam
It's so true, and they're catching on to it. But also, I mean, even for us, we talked about family, but friendships are another thing, Jason. Like pastors, we're notorious for thinking that we can't really have friends, we just have people that we are pouring into, right? And like, yes, of course, we're doing that. But we realized early on to doing this, when we first started doing this retreat, we realized we were not making enough time for actual friendships, for people. There's relationships that are mutual and reciprocal, and they care for us, and we care for them. So even now, one of the first things, we've just stepped, we've moved to California, we've been here 10 months, taking the lead role at a church called Rock Harbor. And it'd be easy to just fill up our nights with getting to know congregants, and elders, and key staff, and we are doing that. And this was Holly's move was like, we need to start our own small group of friends so that we actually have friends. So there's a couple of people in the church and twice a month, we have this table group at one of our homes. And that's important. So now it's just built into the schedule. We can't fill up that slot with like another dinner or other events or another meeting. We're actually proactively investing in even friendships.
Jason Daye
Yeah, I love that. And that's a great point. Glenn, thanks for bringing that up. I love the family aspect of it, Holly. And then thinking about the relationship, that relational health beyond our family to the friends. Let me ask you this, with your family specifically. You are obviously living the intentional year out in front of them, right? So this intentionality is being kind of woven into your intent. It's woven into the fabric of your family. Are you introducing them to the same elements? Are you challenging them with the same elements or, with your older children, maybe? Are you encouraging them, hey, this is a tool that your father and I have been using? I mean, there's value in this and this might be something for you to start. Like, how is that handoff, I guess maybe happening?
Holly Packiam
Yeah, it definitely is in some ways. I think the one that comes to mind first would be the rhythms of intentionality. In the book, we talk about just different kinds of breaking our lives into different spheres like work and rest and renewal, things like that. And so this is the concept that we've talked about with our two older girls who are 18 and 16. And so even when they were younger, that we started talking, we'd go kind of go out with them and process through some of that and they would try to create some different rhythms and I think I'm seeing I'm seeing the fruit of that. Even just planting the seeds of that when they were young when it was maybe really simple or they were just kind of getting the con except to now they're being a lot more reflective, and thinking intentionally about what kind of rhythms do they want to have in their lives and being prayerful about that. And so I think it's been really neat to see. I think sometimes we underestimate kids and think, Oh, this is more of an adult practice. But I think there is a lot of it that we can talk with our kids through.
Jason Daye
Yeah, I love that. And as I read through the book, I was thinking, I'm reflecting, we have six kids, Monica and I do, and I was reflecting. And they're ours are all a little bit older than yours. Ours are all young adults, late teens, early 20s. And so, thinking through that same thing, like, man, there's some great value and like these are some things that I wish I would have thought of even looking into when I was in my early 20s, right, or late teens. So, such a gift. So thank you for that. I want to talk for a moment, a bit about kind of our society and culture in a way. And we'll see, hopefully, this all comes together because I was thinking through this as well. We live in a culture that celebrates, and almost maybe worships, industry or productivity. And so oftentimes we tie our identity really closely to what we produce, right? Rather than who are we becoming? Right. And so as I've read through The International Year, I was like, kind of personally kind of challenged with that, to some degree. I would love to hear your thoughts about how those things kind of relate to that idea of identity, the idea of productivity versus becoming, and it all kind of comes together.
Glenn Packiam
I'm so glad you asked about that, Jason, because you're right. In our world today, you put out a book, and you say it's about efficiency or maximizing your time or productivity. Everybody's like, Oh, I'm in like, what's the life hack for this or that? And we had to be careful as we were writing this, like, we don't want people to hear this as this is another life hack to maximize your time and be super productive but with little Jesus sprinkled in. Like, not what this is. This is not a Jesus version of an efficiency book or business. Those books are great and I've been helped by a lot of time management. You know, I've learned a lot from that. But we wanted to get a little bit of a deeper level. And I think the way that we're trying to reframe the conversation is by contrasting productivity with fruitfulness. And productivity is about what you're doing. And it's about achieving more, accomplishing more, accumulating more even. But fruitfulness is really about who we're becoming. And again, thinking about the way that scripture talks about fruit, the fruit of the Spirit is love, joy, peace, patience, kindness, gentleness, goodness, faithfulness, self-control. These are not things that you'd say, oh, yeah, you accomplished that, or you achieved that, or you accumulated that. No, these are things that we grow into, by God's grace, and by the power of the Holy Spirit. And so really, we want the whole point of these spiritual practices, even what Holly mentioned, the inventory, the five spheres. I'll just name them, prayer, rest, renewal, relationships, and work. Even the point of taking an inventory of those five spheres, is not to say, How can I be better at resting? You know, I mean, this is like the American How can I win at renewal? Oh, no, no. Are you Sabbath-ing as much as I am? That's not it at all. But who are we becoming, as we learn to become fully human, the Imago Dei, image of God people, as we rest, as we relate to others, as we work, as we renew our spirits, and as we pray, and so on?
Jason Daye
Yeah, I absolutely love that. And that really comes forward in this whole idea, in just this concept. I mean, the whole concept of an intentional year and just that intentionality bringing into our lives is a great concept, something that we can talk about. Fortunately, you guys wrote a book that helps all of us incorporate that, which is a blessing. Thank you for that. But, you know, one of the things is we can have conversations about things, we can read a book, right? I mean, we've all read lots of books, great, great stuff. But it doesn't necessarily get executed in our lives, right? Like we can be inspired, but that doesn't necessarily mean execution. So talk to us a little bit, Holly specifically, about how do you make this stick. Because you have to be intentional to be intentional, right? You've got to do something about it. So how do we make this so it's not… how does it happen?
Glenn Packiam
Babe, this is your favorite part.
Holly Packiam
You know, Glenn and I would always joke but we get to this part and like but now we get to do the calendar. So yeah, but I would say the calendar is how we make it stick. And, you know, we get to the end of our time, and we've had a lot of ideas or maybe that maybe it's things we want to change or things we want to add or things we want to take away from our life. Maybe we think the Lord saying, No, this isn't the season for that, or this is something to put on the shelf for now. But yeah, for us, if we don't practically logistically get these things, I mean, and so some people, I pretty much put everything in my calendar. I mean, I'll put this is my time with God, this is when I'm getting ready for the day, I'm getting the kids breakfast, I mean, might be overkill for some. This is when I'm doing laundry, you know?
Glenn Packiam
I'll just share this story. We did a marriage retreat at Rock Harbor earlier this year. And we took the risk of like, people were asking questions like, show us what do you mean? And so we put Holly's Google Calendar up on the screen, you know, screen sharing, and people were like, Oh, my gosh.
Holly Packiam
So some people ask me, Well, is this just because you're just naturally so organized, and you're really detailed, and just really diligent? And it's actually the opposite, honestly, like, I'm really not. I'm really like, if I were just to be left to myself, or when I'm on vacation. I'm like, oh, what should we do now? I'm pretty flowy with time. So it's really, these practices of intentionally, for me have come because I don't actually feel like it's natural to me that I've had to work really hard and I've had to come up with systems like the calendar and just putting everything to kind of keep me on track.
Glenn Packiam
Yeah, and can I add a couple of practical things to that, Jason? Like, it's very easy, in the meat of the book is along these five spheres and taking inventory of what you currently are doing. And then what are some practices you could do? And then it goes right to the countering. And the temptation would be to say, oh, yeah, that's the real concept. But actually, there's the two steps beforehand, where you're reflecting on the past, which we just want to encourage people not to skip over that because when you reflect on the past, that's actually how you say Hmm, what are some griefs in my life, where have I failed. Reflecting on the past has helped me recognize, oh, I am not being present to the kids in a way that I want to be. Or I am not making space for friendships in a way, that I'm lonelier than I want to be. So that reflection is a key thing. But then that second preparatory step is about listening for the season that you're in. Holly's dad's a farmer in Iowa and one of the things we've learned from him over the years is good work done in the wrong season is bad work. You know, if you chop up wood in the middle of winter, that's bad work. That's not what you're supposed to be doing. So you have to know what season you're in. And only when you know what season you're in, then when you come to these five spheres, you can say actually, I need less of this in my life. And it could be for certain people, you say you might need more work and less space for play, or you might need more play and less time for this or that. So it's good. There's not a magic formula for everybody. But you have to kind of know what time it is, what season you're in.
Jason Daye
Yeah, I love that. And I think it's very important about the reflection piece and the seasonal piece. Because, you know, everyone knows, I mean, you look across a year in ministry, right? We have heavy seasons in ministry, you know, Lent moving into Easter tends to be a very heavy season for us, right? And so, recognizing where you are, and what that looks like. But then as we look at our entire lives, we know as parents, we know their seasons with our children that change, and our role changes, and we need to understand what season we're in. I think that's absolutely key. Let's talk about, again, these are great ideas, great concepts. I'm sure a lot of people are nodding, taking notes. Not driving down the road, hopefully. But you have really worked hard, which I appreciate, not only as a friend but as a colleague in ministry. I appreciate that you've really worked hard, the two of you, to make this practical for people to make this like, this all sounds really, really fantastic. And you've worked really hard at creating some resources to say, Okay, this is something that we've experienced, that has blessed our lives is blessed, has blessed our family, has blessed our ministry, we want to share this with others, you know, in the hopes that it can do the same for you. And so, The Intentional Year, the book, which you guys really released last year, right?
Glenn Packiam
Yeah, December of 22. Yeah.
Jason Daye
Right, December of 22. So and then now you have gone back and said, Hey, we're gonna help you out even more, which I love. And you've created another resource to help people really engage in this. So talk to us a little bit about this new resource and how you love it and what it's all about.
Glenn Packiam
Yeah, we're super excited about this because this was an idea that we had from the beginning. And our publisher had the idea of saying, let's create it as a separate thing. And it's called The Intentional Your Journal. And the reason that we're so excited about this is because we are really trying to make this as accessible and as easily applicable to people's lives as we can. And like you said, Jason, people get sold on a concept that Oh, yes, you know, I understand the why. And you can clarify the why, but if you don't simplify the how, people still won't do it, you know? And so the journal is a way to simplify the how. Maybe you've read the book or you listen to the audiobook, and you're like, Okay, I'm in. I get the concepts, I understand what each stage is about. Now, the journal actually walks you through, and it has specific summary paragraphs, and then it has specific question prompts over each exercise, and then it has a bunch of pages with lines in them for you to write. Okay, write down what is God saying to you in this season. Okay, write down what is something to be grateful for. Okay, what is something to grieve over the last season? And then okay, what are you currently doing in your life with relationships? What might it look like? What's a daily, weekly, monthly, yearly rhythm, you might want to build it? And with the caveat that we often give, I don't know, maybe you want to say this, but like to not be overeager and add too many of those rhythms, you know?
Holly Packiam
Yeah, because I mean, many of you have probably heard this, just research on habits, but sometimes, if we try to do too many, we're like, I'm gonna do 10 new things, then we just quit doing everything because we couldn't do it all perfectly. And so our encouragement would be as far as adding things, maybe just in these different spheres we talked about, maybe it's just adding one thing or a couple things, and you just see how that feels with the rest of your life. And if it's doable, and you feel like it's sustainable.
Glenn Packiam
Yeah. And the gift of the journal, hopefully, is that you see it in front of you. And you're like, Okay, that's too many. You know, maybe save this one for next year or whatever.
Jason Daye
Right. I love, one, Holly, I love your transparency about the fact that you don't always have everything planned out. And so you have to be intentional about planning things out, about your calendar and those types of things. Because I know there are lots of people that appreciate that because they feel the same way. They're like, okay, you know, there are those people who they have everything all scheduled out, that's not me. And then they give up, right? And so yeah, I love your transparency on that. And I love the point that you made about the idea that sometimes we overextend ourselves, we get excited about something. And so sometimes we're like, Okay, we are going to change, we are going to, yeah, here we go. This is Jason 2.0 and you get burned out in the first two weeks, and then you just kind of move on. So I love that not only do you talk about pace, and rhythm, just generally like this is valuable and important, but you actually try to bake that into the practical process of inviting pace and rhythm into your life. Like, you have to pace yourself. And it kind of seems to me and correct me if I'm wrong, it seems that this for the two of you, in your own lives. This is something that has grown and developed and evolved into a strong framework for who you are today. But in the beginning, you were you're sorting things out, you're figuring things out, you're taking some small steps. And is that true?
Glenn Packiam
Yeah, absolutely. I mean, when we first started the retreat, 12-13 years ago, whatever it was, it was mostly like, catch your breath, young kids, whatever, have a nice meal. And then the next day was like, Okay, what are all the calendar discussions we need to have? And then over time, Holly had this idea of applying an ancient prayer called the prayer of Examen, and it's an Ignatian prayer from the 1400s. And she had the idea of applying it over the course of the previous year. And so then we began to expand that and like, oh, yeah, let's both do that. And in the book, we map it out, like if you are doing this retreat with others, and, again, whether you're single or married, it is really helpful to do this in community because there's moments even for us on our retreat, where we go away separately and say, let's take the morning and journal and be with the Lord. Then let's compare notes at lunch. And so then the meal times became the place to exchange notes and then the helpful back and forth of saying, Do you think that's a bit too many things that you're trying to do there? And so that accountability, even that conversation is so helpful. And then how it's evolved even for now is like we actually need to do this twice a year. So January and then again in July, because semester to semester all of that stuff, it just changes.
Jason Daye
Yeah. That's awesome. Man, this has been such a fruitful conversation. And I honestly believe having read the book, and having just received the journal, I honestly believe this is a resource for ministry leaders 100%, right? Because we know again, we've talked about the front stage and backstage of our lives. You know, the public piece of ministry, then the personal relational aspects, the emotional health, and mental health, all of those pieces. I think it's huge. But this is a resource for everyone who's seeking to honor Christ with their lives, whether you're in ministry. So this is really a tool and a resource that I think, speaking to our brothers and sisters who are serving on the frontlines, Yes, like dig in, dive into this. But this is really something that you can invite your people into. Are you guys, talk to us a little bit about how you've been sort of doing that, over the years in ministry, inviting people to come and experience this as an element of ministry.
Jason Daye
Yeah, one of the things we were able to do at our church this winter was to have a marriage retreat. And so we kind of did The Intentional Year for marriages. And we're able to take them through some of these practices and concepts and just give them also time throughout the day to just really sit with each other, sit with the Lord, to go through some of this. And so we were able to get a good part of our church to come and be there to just have time with each other.
Glenn Packiam
Yeah, and the feedback from people, Jason, was super encouraging of people saying, I've never been proactive about Sabbath, I just sort of would take a Sabbath when I could find it. Or when I started crashing. I mean, that's just one example. And we're in Orange County where people appear chill, but they're hustling beneath the surface trying to achieve stuff. And so it's really, really encouraging to see that. And then we had loads of people buy it for friends and family members over Christmas break as a Christmas gift. Because it's a wonderful way to start kind of the new year. So yeah, we absolutely wrote this for every Christian. And I think if you're a pastor, and you want to consider how to disciple your people, invite them on this journey with you, you could get a bunch of these and with the journals and do it with your staff, maybe for the fall. And then maybe in January, I have a retreat-type format overnight, optional overnight, if you wanted to. That's what we did, was the optional overnight piece. And lead people through it, through those phases of the retreat in January. And it's really a borne fruit for our church. Where now, as a church, we have common language, we have common practices. And every leader knows this, if you're going to change the culture of your church, one of the things you want is you want a new set of languages and a new set of practices. And then that's how you introduce new culture. And so that culture of fruitfulness, culture of intentionality, and spiritual practice. It's been a beautiful thing to watch as we've stepped into this role here.
Jason Daye
Yeah, absolutely love it, Holly and Glenn. Absolutely love. As we're closing down a couple of things. One, I would love for you just to share, each of you if you could, just share a few words of encouragement for brothers and sisters who are serving in ministry. You know, times can be challenging. We all know that ministry is challenging. Ministry is an incredible blessing. But it also can be very challenging at times. So just a word of encouragement for pastors and ministry leaders. So Glenn, do you want to start?
Glenn Packiam
Yeah, sure. Yeah, it can be so hard. And I just my image for you, my prayer for you is that you would know that, that the Lord is truly with you, that you're not doing this work simply for him. He's not distant, that he's actually joining you in it or rather, he's invited us to join him. And I think very often of this line, that John Wesley it's by the story, the legend, you know, his last words to his followers on his deathbed was, Best of all, God is with us. And I think about that for pastors. I want to say, Isn't it great that we're not in the same place we were a year ago, two years ago? Isn't it great to see our churches with people? Yes, yes, yes, yes, yes. And best of all, God is with us. And so, on the good days and on the bad days, may you take courage in that.
Jason Daye
Thank you. Holly.
Holly Packiam
I think I would just say that, just to remember how much God loves you and that you, like as a son or daughter of God, sometimes we can put our identity in titles and who other people see us to be. And for many of you, you are on a stage or you're really putting your life out there in front of people on a daily, on a weekly basis, but to remember that, really your identity comes from that foundation that you are a son or daughter of God and that He doesn't love you anymore today then he has your entire life. And so I think if we really, if we could really live out of that confidence, of that love, it seems so simple. But I think if we really leaned in and ask the Lord to really not just have that be in our head, but really in our hearts, that if we really lived out of that, that we would live in a more free, live in freedom.
Jason Daye
Yeah, I love that. I love that. Thank you so much. Super sweet, good words from both of you. Guys, if people want to connect with you, or if they want to get the book or the journal that's being released now, what is the best way for them to do all those types of things?
Glenn Packiam
Well, they can go to their favorite local bookstore or online bookshop. Of course, Amazon has it all. We do want people to know that the book is also an audiobook and Holly and I both take turns reading it so enjoy that format. That could be a fun thing to do. And then both of us are on Instagram. I'm @gpackiam and Holly's @hollypackiam.
Jason Daye
Excellent. Excellent. Well, love, and appreciate you both. Thank you for making time to hang out with us. And for those of you watching or listening along, we'll have links to the book to the journal, to all those great things that Glenn and Holly have shared with us at PastorServe.org/network in the toolkit for this week's episode, and give you an opportunity to dig more deeply. And really encourage you guys. You can take this and use this with your local ministry team in your local church and help them get more out of this conversation. So I appreciate you both of you both. Thank you so much for all you are doing for the Kingdom. It's just awesome to see how God is using you. And thank you for making the time to hang out with us here on FrontStage BackStage.
Glenn & Holly Packiam
Thank you, Jason.
Jason Daye
God bless you, guys.
Jason Daye
Now, before you go, I want to remind you of an incredible free resource that our team puts together every single week to help you and your team dig more deeply and maximize the conversation that we just had. This is the weekly toolkit that we provide. And we understand that it's one thing to listen or watch an episode, but it's something entirely different to actually take what you've heard, what you've watched, what you've seen, and apply it to your life and to your ministry. You see, FrontStage BackStage is more than just a podcast or YouTube show about ministry leadership, we are a complete resource to help train you and your entire ministry team as you seek to grow and develop in life in ministry. Every single week, we provide a weekly toolkit which has all types of tools in it to help you do just that. Now you can find this at PastorServe.org/network. That's PastorServe.org/network. And there you will find all of our shows, all of our episodes and all of our weekly toolkits. Now inside the toolkit are several tools including video links and audio links for you to share with your team. There are resource links to different resources and tools that were mentioned in the conversation, and several other tools, but the greatest thing is the ministry leaders growth guide. Our team pulls key insights and concepts from every conversation with our amazing guests. And then we also create engaging questions for you and your team to consider and process, providing space for you to reflect on how that episode's topic relates to your unique context, at your local church, in your ministry and in your life. Now you can use these questions in your regular staff meetings to guide your conversation as you invest in the growth of your ministry leaders. You can find the weekly toolkit at PastorServe.org/network We encourage you to check out that free resource. Until next time, I'm Jason Daye encouraging you to love well, live well, and lead well. God bless.
---
Shareable Social Graphics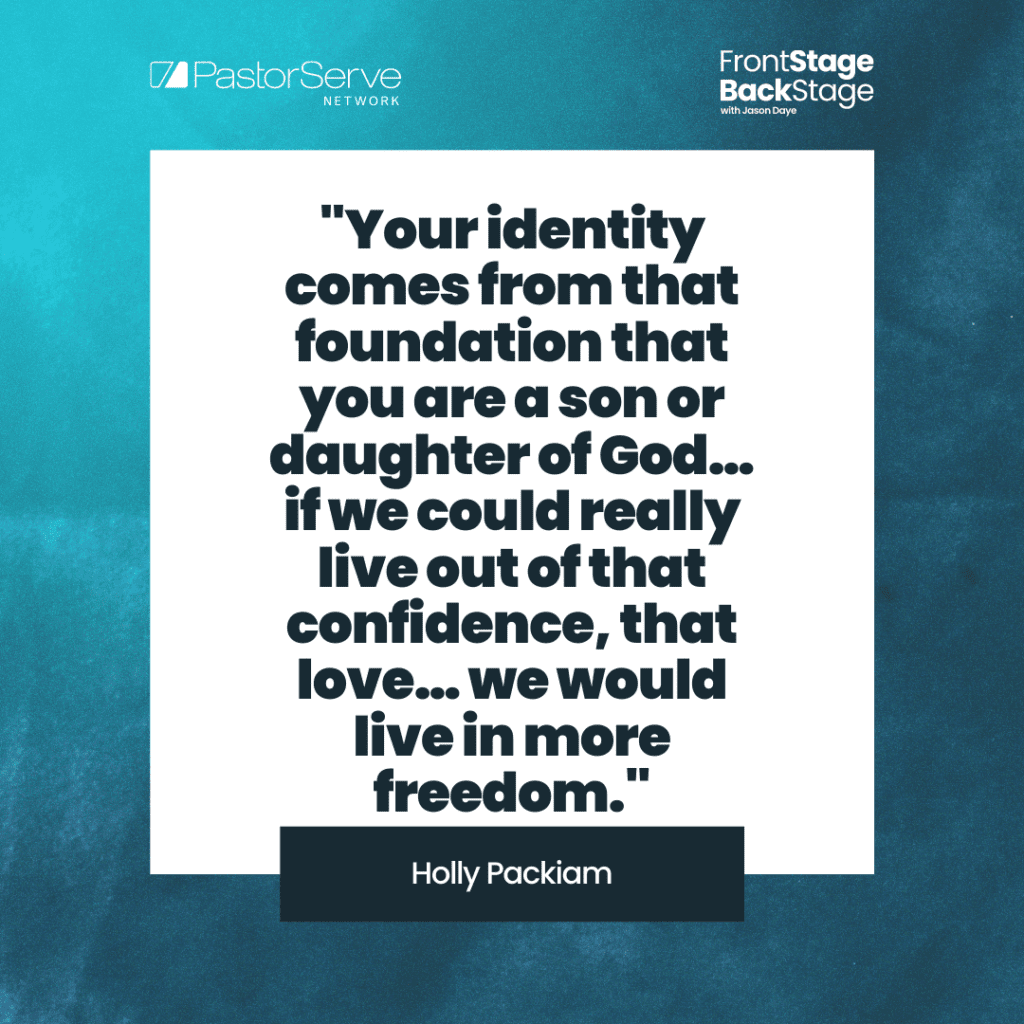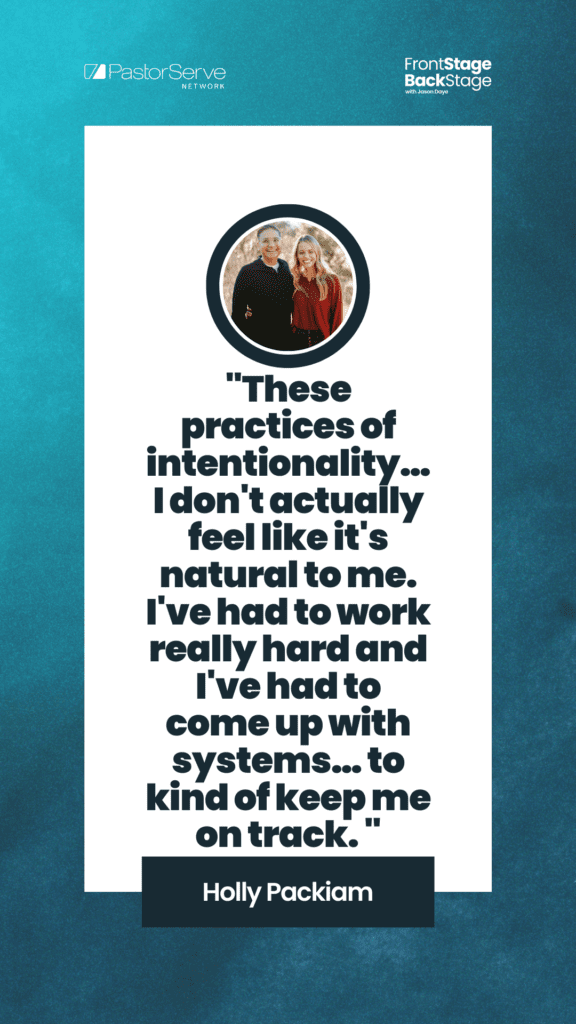 Strengthen Your Church
Strengthening your church, for us, begins by serving you, the pastor!