Tools You Receive Every Week
Our team pulls key insights and quotes from every conversation with our amazing guests. We also create engaging questions for you and your team to consider and process, providing space for you to reflect on how that episode's topic relates to your unique church context. Use these questions in your regular staff meetings to guide your conversation as you invest in the growth of your ministry leaders.
Want to review something that was mentioned? Interested in copying a quote and sharing it with a colleague? Desire to dig a bit more deeply into this week's topic? Our team provides a full-text transcript of every conversation so you can pass along snippets, post tweets, create presentations to share, or use in whatever way you find most helpful in developing your ministry leaders.
Join the discussion on YouTube with the video links provided for every episode. Have a question about something that was mentioned? Leave a comment and we will do our best to provide an answer. Be sure to share the video with your ministry team before your regular staff meetings so they can watch and be prepared for your discussion. Invite your team to subscribe to the YouTube channel so they receive each week's episode.
Throughout each conversation with our special guests, a variety of resources and tools are discussed. Each week we collect these links together so you and your team can easily find what is mentioned or referenced. We are also often able to provide links for you to connect directly with our guests and their ministries. At times, guests have a special resource available only to our audience, and we always pass that link along when available.
Listen to each week's conversation on-the-go from your favorite podcast platform. Share the podcast episode with your ministry team each week, as well, in case they prefer to listen rather than watch. You can encourage them to subscribe to the podcast so they receive it automatically each week. Again, be sure they receive it prior to your regular staff meeting so they are ready to discuss the topic.
Every week our team creates social graphics that you can share on your favorite social platforms. These graphics come directly from the conversations with our guests and are designed to encourage, equip, and inspire. Feel free to post them on your church social accounts, your personal accounts, or use them as graphics in your communications.
Don't miss a single conversation... Subscribe today!
Ensure that you and your ministry team do not miss any of these insightful conversations by subscribing via YouTube or your favorite podcast platform.
Click on an Episode Image to Access the Toolkit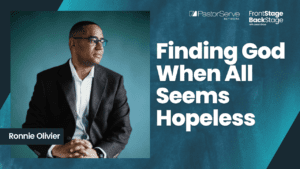 What do we do when situations in our lives seem hopeless? Not just challenging but completely hopeless. In this week's conversation on FrontStage BackStage, host Jason Daye is joined by Ronnie Olivier. Ronnie served 27 summers in the notorious Louisiana State Penitentiary known as Angola. Ronnie has recently released his memoir entitled 27 Summers, which…